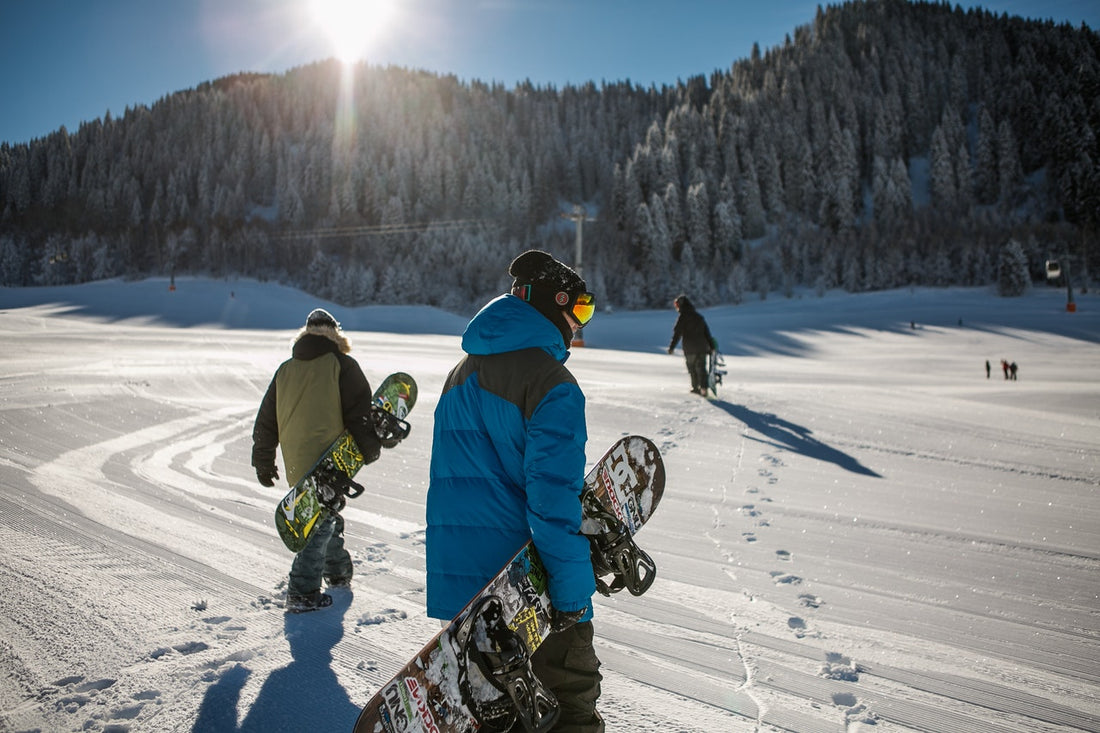 Top SKI & Snowboarding lessons in Utah (United States)
Looking for top ski and snowboarding lessons in Utah? Then you are at the right place. This article will discuss top ski and snowboarding lessons in Utah.
The feeling of freedom provided by skiing and snowboarding is unsurpassed in the sporting world. Only surfing and skating can compare to the exhilaration of navigating a mountain on a snowboard.
While a romantic notion is linked with snowboarding and its accompanying lifestyle, beginning to snowboard and eventually advancing to a higher level might be intimidating for some.
A few years, if not decades, may be required to reach the point where you feel comfortable riding anyplace. Fortunately, our state offers some of the nation's finest skiing and snowboarding instruction programs.
Utah is home to on-hill instruction, including single-day classes, private schools, and teams.
With the worldwide adoption of snowboarding as a sport for everybody over the last decade, learn-to-ride programs are no longer exclusive to children and beginners. With cooperation between resorts, industry-leading gear makers, and expert instructors, even seasoned riders looking to hone their abilities have access to various courses, workshops, and events.
A program will help you succeed on your board, whether you visit Utah for a weekend or live here permanently. I have developed a list of the state's most innovative and varied ski and snowboarding education programs.
If you want to know about Skiing & Snowboarding Safety Tips to Follow, click here.
List of Top SKI & snowboarding lessons in Utah (United States)
Here is the list of Top SKI & snowboarding lessons in Utah (United States):
1. Burton LTR Centers:
Learn-to-Ride (LTR) programs have been an integral part of Burton snowboards' commitment to introducing new riders to the sport for decades as the industry's largest snowboard and ski manufacturer. 
However, the Burton LTR program is a seal of excellence in ski and snowboarding instruction because of its strategic partnerships with selected national resorts, standardized teaching methodology, and beginner-specific equipment.
The multi-step approach developed as part of this software will enable you to quickly go from green circles to black diamonds. With LTR-specific boards that prevent heel and toe-edge catch, your self-assurance will rise, and your fear of falling will be nonexistent.
Moreover, this program is intended to educate and encourage individuals of all ages to pursue a life of snowboarding. Join the qualified snowboard instructors at these Utah-based Burton LTR resort partners if you're interested in making use of these incredible resources:
Click here and also read about the most popular types of Snowboards | Trey
2. Winter School:
The Park City, Winter Sports School, may interest you or your kid if you are an aspiring winter athlete or if your youngster intends to commit themselves seriously to their activity. 
However, this world-renowned institution is a non-profit charter school whose educational offerings have been developed to optimize your time on snow, allowing you to learn to become an exceptional snowboarder. 
The academic curriculum focuses on grades 9-12 and spans from April through November. 
This certified school is a feeder program for the US Ski and Snowboard Association. It is designed for the most severe athletes. 
3. Solitude: Youth Snowsports Academy
The Explorer program at Solitude provides all riders with a fun and engaging learning experience. 
However, the Moonbeam Ski and Snowboard Academy employ qualified teachers that use small group sizes, games, and fun to help youngsters gain confidence on snow and improve their technique. 
This year they have also established a Junior Explorer snowboarding program. There is something for every age group. Therefore there is something for everyone.
4. Snowbird Mountain School
As Utah's premier resort for the "Big Mountain Experience," Snowbird's snowboard school program is designed to promote instruction from the basic level through backcountry clinics and teacher training. 
Beginning with youngsters as young as three years old and extending to adults. Snowbird's team of expert teachers is prepared to show you and your family everything this incredible mountain offers. 
Snowbird Mountain School provides backcountry guiding and teaching for the most skilled skiers and snowboarders.
At Snowbird, multi-day winter camps for children and adults are also typical. The Bird has you covered, from Women-only centres to SheRide's huge mountain kids camps.
Wasatch Adaptive Sports is crucial to discussing Utah's most acceptable on-snow schooling. Since 1977, this one-of-a-kind program has been established at Snowbird and Sundance Mountain Resorts. 
It has been committed to bringing persons with adaptive needs onto the snow and training them to ride. 
Their whole team is qualified by America's Professional Ski and Snowboard Instructors. They are regarded as one of the country's premier ski schools for those with special needs.
5. Powder Mountain Snow Sports School 
Powder mountain snow sports school provides five-week class packages for those aged 16 and up. They deliver cheap courses of the best quality taught by licensed teachers in a safe and enjoyable environment.
Hours:
A session is restricted to five Saturdays from 10 am to 12 pm.
Reservations are necessary. There are a limited number of day tickets available. Pre-Purchase is necessary.

If you are renting equipment, please arrive 1 to 1.5 hours before the lesson's start time to arrive on time. If you are late, you may be asked to reschedule your appointment.

Inquire about the Snow Sports School's 5-Pack savings.
6. Nordic Valley
Learning to ski or snowboard at Nordic Valley is a fun, simple, and budget-friendly activity worth investigating! 
Group courses are an excellent opportunity to hone your abilities or learn the fundamentals on a budget. 
We think learning to ski and snowboard at Nordic Valley should be a stress-free, pleasurable experience. 
Nordic Valley strive to accommodate every client and provide a welcoming atmosphere for all ages and skills.
7. Sundance Resort
The renowned PSIA/AASI Ski & Snowboard School at Sundance Resort features qualified instructors for all ages and ability levels.
Enjoy every facet of Sundance Resort's ski and snowboard activities by acquiring new skills throughout your stay. 
However, the renowned PSIA/AASI Ski & Snowboard School at Sundance Resort offers qualified instructors for all ages and ability levels committed to making your visit pleasurable.
Final Verdict:
This post should help you learn about Utah's best ski and snowboarding classes (United States). We hope now it's easier for you to select the best ski and snowboarding lesson in Utah.