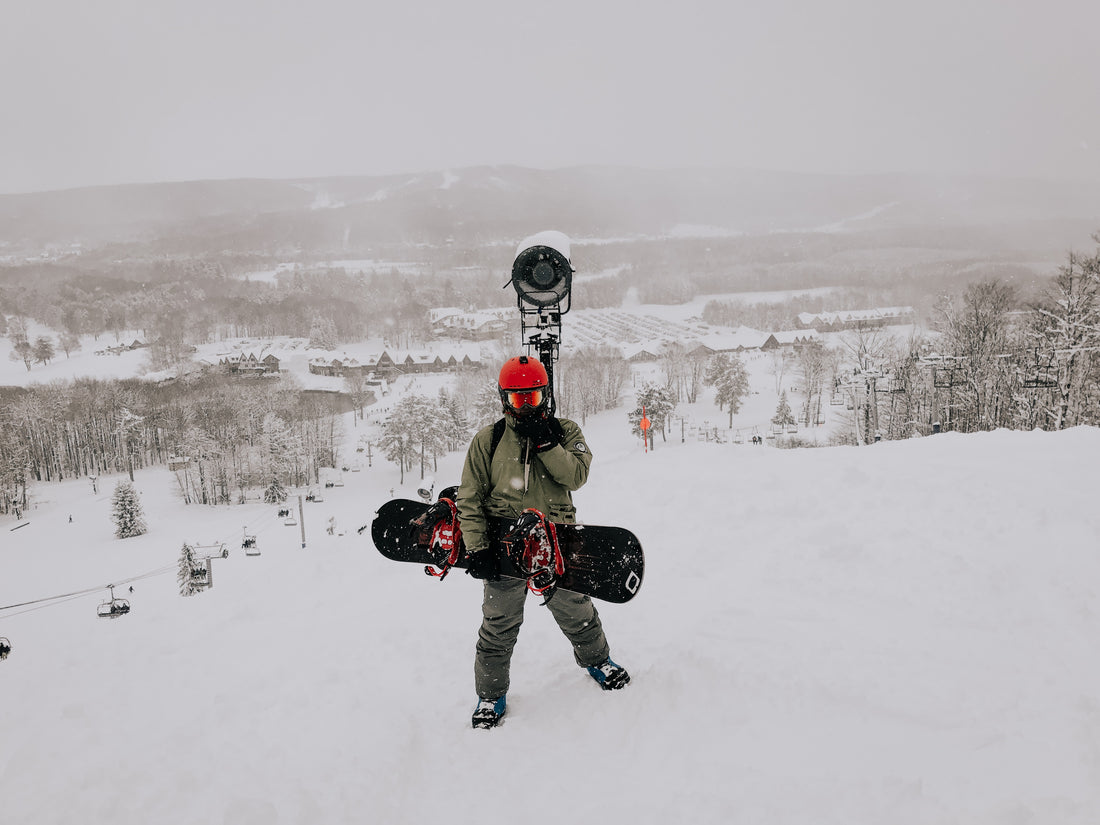 Movies & Documentaries Snowboarders should consider watching.
If you love snowboarding, you know there's nothing like a good snowboard movie. These films capture the spirit of the sport like no other medium can, and they're always exciting to watch. Snowboard movies are always fun and interesting to watch, whether seeing a world-class rider on their first trip down a mountain or seeing what goes into making a world-class movie. In this post, we'll look at some of our favourite films and documentaries made by professional riders - from legends like Jeremy Jones to up-and-comers like Jake Blauvelt (and everything in between).
The Art Of Flight
The Art of Flight is a 2011 action sports documentary film directed by Curt Morgan and produced by Teton Gravity Research. The film follows snowboarder Travis Rice as he travels worldwide in search of the perfect snow conditions.
The movie took six years to make and includes footage from various locations such as Alaska, Canada, Argentina, Switzerland and Japan.
That's It. That's All
This documentary takes you on a journey with Travis Rice. He is on a quest to find the perfect snowboarding location. Along the way, he takes you to Alaska, Iceland and Japan.
What I found most interesting about this documentary was seeing how people use the world differently than we might expect in America or Europe. For example, Japan has several mountains covered in green moss rather than snow. This allows for another layer of terrain for snowboarders to ride through and explore as if it were their own personal playgrounds!
It's also nice because it shows you what it's like being a professional athlete; where all your money goes after taxes; how hard these athletes work out every day just so they can be at peak performance when their sponsors come calling asking them where they want to go next year when its time again for new contracts."
The Fourth Phase
The Fourth Phase is the fourth full-length snowboarding film by Travis Rice and Jeremy Jones. The film documents Travis Rice and Jeremy Jones' attempt to summit the Shark's Fin on Mount Meru in the Himalayas.
Awards: 10 wins & 10 nominations
The Crash Reel
The Crash Reel is directed by the son of legendary director Stanley Kubrick, Richard. The 2013 documentary focuses on snowboarder Kevin Pearce's recovery from a traumatic brain injury sustained during a halfpipe crash. It follows Kevin as he relearns to walk and speak after his accident, then as he trains for the 2010 Winter Olympics. In 2014, The Crash Reel won the grand jury prize at Sundance Film Festival.
Jeremy Jones Deeper and Further
If you're a snowboarder and have Netflix, you can watch a film about Jeremy Jones called Jeremy Jones Deeper and Further. It's available on Netflix and is about the life of one of snowboarding's most influential riders. The movie starts at his humble beginnings in Vermont, where he grew up as an outdoorsman who loved to ski, skateboard, and snowboard. It then takes viewers through his professional career as he travels worldwide with his friends while searching for new places to ride.
Valhalla
Valhalla is a snowboard movie released in 2013. It was directed by Curt Morgan and featured Jeremy Jones, Pierre Luc Gagnon, Mikey Rencz, Chris Bradshaw, Nicolas Müller and Chris Coulter.
The movie was filmed exclusively on location at Mount Hutt and Aoraki / Mount Cook National Park in New Zealand from March to April 2012. Valhalla tells the story of six young riders chasing their snowboarding dreams worldwide.
Absinthe Films - NowHere
"NowHere" is a documentary that follows the snowboarding culture, discovering what makes them tick. Director Chris Bryan takes us around the world to meet some of the most influential and skilled riders in history, including Jeremy Jones, Travis Rice and Terje Haakonsen.
This film is worth watching if you want to learn more about snowboarding or are just looking for some inspiration to get you out on your next trip!
Standard Films - TB20
This is a film about the TB20 tour, which is a multi-stop snowboard tour that takes place in Europe.
The movie follows some professional snowboarders as they compete on the TB20 tour.
Mack Dawg Productions - True Life
True Life is a film about the life of pro snowboarder Jeremy Jones. It's been described as a "documentary for people who don't like documentaries." The film showcases the lives of professional snowboarders, including Jones, and how they balance their professional careers with their personal lives.
Jeremy Jones was born in Alaska and grew up in Vermont. His parents competed on the US National Snowboarding team, so naturally, he followed suit by competing internationally from a young age. He has gone on to win multiple competitions and has also opened up his own business called Icelantic Skis (which manufactures snowboards).
Sherpas Cinema - Into the Mind
Into the Mind is a feature-length documentary that follows the journey of professional snowboarder Travis Rice as he embarks on a personal quest to explore the boundaries of his sport and find new ways to express himself. Set against the backdrop of some of the most majestic locations in New Zealand, Iceland and Alaska, Into The Mind captures an intimate portrait of one man's lifelong pursuit of perfection in his craft and personal fulfillment.
Nitro Circus - Road Warriors Tour Documentary (Main feature)
The Nitro Circus - Road Warriors Tour Documentary is a feature-length film about the Nitro Circus tour in 2015. The film was released on January 1, 2016.
The film was shot over the course of six months and features some of the most insane stunts from the tour across 17 countries. It also features interviews with snowboarders who were featured on it, including Shaun White, Travis Rice, Mark McMorris and many others.
Jake Blauvelt Naturally
Jake Blauvelt is a snowboarder known for his style, tricks and personality. Jake has been around since he was young, competing in the USASA Nationals at age 12. He then won several freestyle events and picked up some significant sponsors like Vans and Oakley during his time on the circuit.
He's competed in numerous contests, including X Games, Burton European Open and Transworld Snowboarding. In 2015 he won gold at the X Games Real Snow Backcountry event, which took place in Alaska, where he showcased his unique style of riding with big jumps, massive spins or just cruising down groomers with friends.
Conclusion
Snowboarding is a sport that has been around for a long time, but it has changed a lot over the years. There are many great movies and documentaries to watch if you want to learn more about snowboarding..
So there we have a bunch of movies you should consider watching. Hopefully, some of these will resonate with you as much as they did me.